1060 H24 embossed aluminium sheets
Guide :
1060 H24 embossed aluminium sheets is an aluminum foil multi-layer air heat shield embossing structure including inner layer embossing and outer layer embossing. The inner layer embossing and the outer layer embossing are concave and convex
1060 H24 embossed aluminium sheets is an aluminum foil multi-layer air heat shield embossing structure including inner layer embossing and outer layer embossing. The inner layer embossing and the outer layer embossing are concave and convex embossing layers. The convex part and the concave part of the lamination embossing and the outer lamination embossing are buckled with each other, the inner lamination embossing is aluminum foil embossing, and the outer lamination embossing is aluminum plate embossing; it also includes an intermediate layer, and the intermediate layer is fiber layer or aluminum foil embossing layer. The utility model has the advantages of improving the heat insulation efficiency of the heat shield.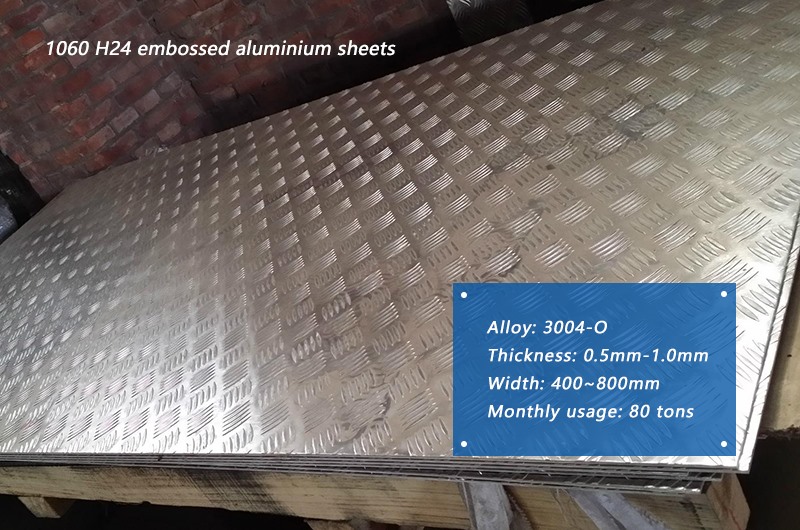 1060 H24 embossed aluminium sheets
Alloy: 3004-O
Thickness: 0.5mm-1.0mm
Width: 400~800mm
Monthly usage: 80 tons
Special instructions: must ensure the elongation of more than 20%
 
1060 embossed aluminium sheets have good formability, weldability and corrosion resistance. It is used for processing parts that require good formability, high corrosion resistance, good weldability, and good stamping performance.