Honeycomb Pattern Embossed Aluminum Sheet
Guide :
The honeycomb pattern embossed aluminum sheet is made of mirror aluminum anodized base material, the surface is densely covered with embossing like honeycomb shape, the astigmatism effect is strong, and the reflectivity is as high as 85%. I
The honeycomb pattern embossed aluminum sheet is made of mirror aluminum anodized base material, the surface is densely covered with embossing like honeycomb shape, the astigmatism effect is strong, and the reflectivity is as high as 85%. It is widely used in lighting and decoration industries.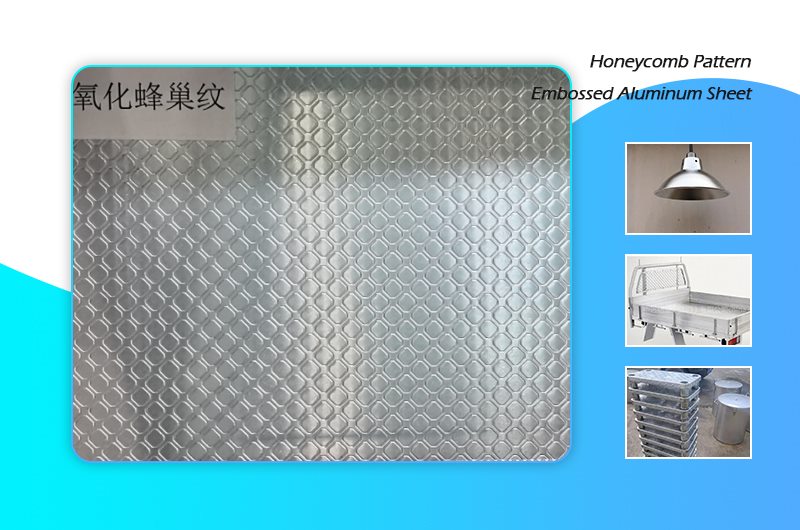 Honeycomb Pattern Embossed Aluminum Sheet Supply Scope:
Thickness range: 0.3 - 0.75
Max width: 1250
 
Technical parameters of honeycomb embossed aluminum sheet:
Alloy: 1060
Hardness: H14 H24
Mechanical strength: ≥143[mpa]
Yield strength: ≥129[mpa]
Elongation: ≥2%
Total reflectivity: 85% (aluminum color)
Corrosion resistance: Standard 5%NaCl salt spray test for more than 167 hours
Rainbow Degree: 2
 
Honeycomb Pattern  Embossed Aluminum Sheet Package:
 
Coiled material: direct production wooden pallet packaging. Outer fiberboard packaging, suitable for domestic land transportation.
 
Plate: Packed in wooden case or wooden pallet.
Spherical pattern aluminum sheet can also be called hemispherical pattern aluminum sheet, the surface presents a small spherical pattern, like small pearls, so this aluminum sheet can also become a pearl-shaped pattern aluminum sheet. Mainly used in outer packaging. The appearance is relatively beautiful. Due to the special pattern, the strength of this aluminum plate is much higher than that of other pattern series.
 
​​
 
Honeycomb Pattern Embossed Aluminum Sheet Application
Patterned aluminum sheets are widely used in furniture: refrigerators, air conditioners, carriages, platforms, packaging pipes, screen frames, various suspension beams, table legs, decorative strips, handles, wire troughs and covers, chair pipes, etc.
 
Honeycomb pattern embossed aluminum plate technical standard: national standard for aluminum and aluminum alloy pattern plate (GB/T 3618-2006), a unified standard for aluminum and aluminum alloy pattern plate.