Automotive interior embossed aluminium sheet coil
Guide :
With the continuous development of autonomous driving technology, there is more and more room for the development of automotive interior design, and the use of interior materials also tends to be diversified. On the one hand, the Automotive
With the continuous development of autonomous driving technology, there is more and more room for the development of automotive interior design, and the use of interior materials also tends to be diversified. On the one hand, the Automotive interior eis an indispensable and important part of the car, and on the other hand, it is also closely related to the user experience.
 
Automotive interior embossed aluminium sheet coil design is the design language of product details, which requires careful scrutiny and attention to details, not only considering the mature solutions of traditional automobiles, but also integrating iterative optimization with modern advanced technology.
 
In the interior of new energy electric vehicles, the instrument panel, door trim panel, rear panel and rear panel and other car interior parts can all show the effect. To put it simply, the embossed aluminium sheet coil is the different texture effects on the surface of the interior parts of new energy vehicles.
 
These new energy vehicles embossed aluminium sheet coil automotive interior can directly affect people's visual and tactile senses through creative inspiration, color and texture combined expression. For example, embossed and perforated textures are combined with subtle lighting and printed patterns to create a very personal sense of technology. Another use is the presentation of decorative 3D effects, which increase the details and layers of textures and add a sense of sophistication.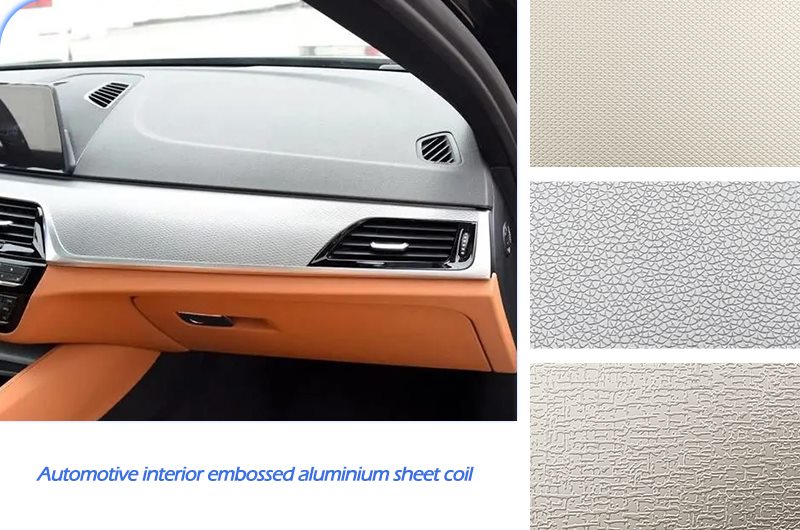 Material details of embossed aluminum sheet coils for automotive interiors
 
Alloy grade: 1060 3003 5052
Embossing: Hammer pattern, orange peel, diamond and other patterns can be customized.
Surface; Anodized, Color Coated, Russ
Status: O, H12, H14, H16, H18, H22, H24, H26, H32
Thickness: 0.2 ~ 3.0mm
Width: 500 ~ 1500mm
 
Development of Embossed Aluminum Coils for Automotive Interiors
 
Nowadays, the patterns of embossed aluminum coils in the interior of new energy vehicles are very changeable. When the texture changes, even if the same product is made of the same material, the decorative effect will be completely different. The interior of the car includes all the interior decorations of the car, including the instrument panel, floor glue, audio instrument panel, steering wheel, seat, control buttons, air conditioning outlet, shift head, door trim, door handle, etc. From the perspective of styling design, interior design accounts for more than half of the entire vehicle design. Because compared with the appearance, the components involved in interior design are relatively numerous.
 
As the overall quality gap between different brands of cars narrows, car interiors have become a new battleground for competition. The goal of this war is to make the parts of the car interior fit together enough to achieve zero distance. Today, these tiny details have become a very important indicator of the quality of the embossed aluminum sheet coils for automotive interiors.