Flame Retardant Embossed Aluminum Foil
Guide :
The pattern on the Flame Retardant Embossed Aluminum Foil is pressed out by a pair of rotating rollers. One roll is a patterned hard steel roll, and the other is a large diameter paper or rubber roll with great toughness and elasticity. In o
The pattern on the Flame Retardant Embossed Aluminum Foil
 is pressed out by a pair of rotating rollers. One roll is a patterned hard steel roll, and the other is a large diameter paper or rubber roll with great toughness and elasticity. In order to make the pattern on the aluminum foil clear, the paper roll should be flexible and moderate, and the paper roll should be properly wetted before embossing, and the pressure should be run from light pressure to heavy pressure for 10 to 20 minutes.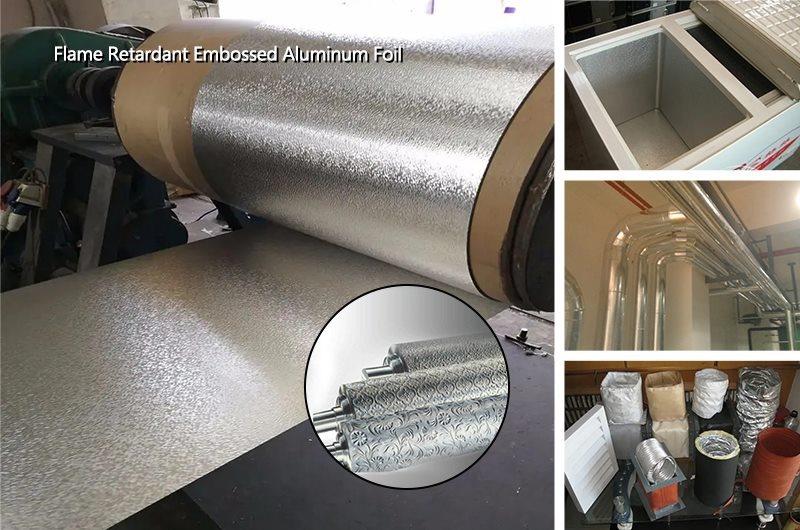 Flame Retardant Embossed Aluminum Foil is processed by pressing the bare aluminum coil in the orange peel embossing equipment, and the aluminum plate surface is fully pressed into aluminum plate and aluminum coil products with a pattern similar to orange peel (orange peel), and the surface of the aluminum plate is uneven after embossing. Pattern can increase the surface area, mainly used in refrigerators, air conditioners, pipe insulation, liner insulation and other industries.
 
Flame Retardant Embossed Aluminum Foil Specifications: Orange peel embossed aluminum sheet with thickness of 0.2 to 3 mm, orange peel embossed aluminum sheet and aluminum coil wholesale. The width can be within 1.5 meters, the length can be fixed, with obvious uneven pattern, beautiful and generous, providing fixed-length opening and leveling, non-standard size opening and leveling embossed aluminum plate, and providing anti-corrosion and thermal insulation embossed aluminum coil and aluminum skin for pipes and equipment.